Recycling facilities and services in Cape Town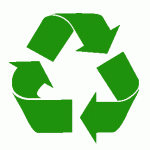 If you buy only what you need and avoid products with excessive packaging, that's a good start. But our goal must be zero waste going into landfills, especially in Cape Town where land is precious and our biodiversity is unique. Not to mention that landfills put off loads of methane – a potent greenhouse gas.
Separate your waste. Drop off recyclables yourself or pay a service to collect it for you. Start a worm farm. Compost if you have a garden. You can also donate used items and repair broken ones.
For mountains of practical advice on municipal and other recycling facilities and services read on …
City of Cape Town recycling drop-off sites
The City of Cape Town has 19 drop-off sites, two transfer stations (Athlone and Kraaifontein) and four landfill sites (Bellville South, Coastal Park and Vissershok) that accept various types of waste (full list defined in the downloadable pdf).
The drop-off sites are open in summer (1 September – 31 May) from 08h00 until 18h30 from Monday to Saturday. During winter the sites close at 17h00. The facilities are open on Sundays from 09h00 until 14h00 all year round (except Christmas Day and New Year's Day).
For drop-off queries contact 021 4428136 or call the City of Cape Town call centre on 086 010 3089.
Download the City of Cape Town list of recycling drop-off sites (including types of waste accepted)
City of Cape Town "Think Twice" door-to-door household recycling 
The City of Cape Town also operates five contracts, collectively known as the "Think Twice" contracts, where contractors collect mixed recyclables in clear bags from households in certain areas.
For more information visit: www.capetown.gov.za/en/solidwaste/Pages/ThinkTwice.aspx. You can also find out more from the contractor's websites: www.wasteplan.co.za, www.wastecontrol.co.za and www.thinktwice.co.za.
Community and private sector recycling drop-off facilities
Download a list of schools and other sites (pages 3 and 4) at the end of this article.
Companies who collect recyclables from households and businesses
Download a list of companies (pages 5 – 7) at the end of this article.
Companies who buy back recyclables
Download a list of companies who will buy back recyclables (usually from businesses only). These are included on pages 8 and 9 on the document that can be downloaded below.
Engen petrol stations
Woolworths has a partnership with Engen to collect recyclable paper, plastic and glass. Find out more about the eight sites on page two of the downloadable document below.
Community and private sector recycling sites and services in Cape Town.
Please share your own recycling suggestions on our participate page or leave a reply below.
One Response to "Recycling facilities and services in Cape Town"