Overview
When it comes to addressing climate change, the time for action has long since arrived. The climate is changing, and we each must do what we can to mitigate and adapt to these changes.
In Cape Town, we face a triple challenge:
High carbon footprint – per capita carbon emissions on par with London, New York and Beijing, but with an economy a fraction their size
Poor energy security – highly dependent on electricity from coal power stations nearly 2000 km away, with consumption expected to almost quadruple by 2050, if we continue under the current scenario
Vulnerability to the impacts of climate change – a sprawling coastal city dependent on private vehicles where the poor generally live far from resources, the city will face hazards from changes in temperature, rainfall patterns, sea levels and storm events
For all the challenges we face, Cape Town is a city taking action:
Achieving greater resilience and resource efficiency
Creating a lower carbon city adapting well to the impacts of climate change
Protecting its vulnerable citizens
Building an economic future based on clean development, localisation and jobs for all.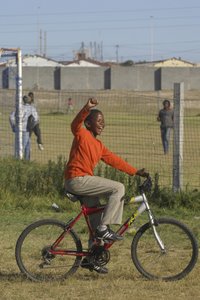 And the city aims to inspire and assist other regional, national and continental cities to achieve similar ends.
Climate Smart Cape Town is a campaign to help residents of Cape Town learn about climate change and how they can take action, as well as to learn about the actions already being taken by the City of Cape Town and other leading public and private sector organisations to mitigate and adapt to climate change.
You are invited to take action and to share your ideas for what else can be done.
"There is no time to lose. Climate change is the challenge of all time. No part of the world is immune. We are all in this together." – Wangari Maathai, Nobel Peace Prize Winner