COP17 Climate Smart Cape Town daily: Final day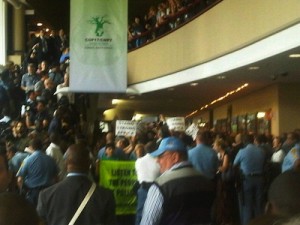 As I write this, civil society protestors are are engaging in peaceful protests in the Durban ICC at COP17. It is not clear when the negotiations will end. Some say if they move into Saturday this is likely to mean a better outcome. Others are already frustrated with the slow pace of negotiations and lack of results.
This conference has reinforced that although international discussions are important, change must happen first in our hearts, homes and cities. Let us take action and make the changes that we need to in our own lives and ensure that we support our local leaders to do the same.
Leaders in Cape Town and the Western Cape spoke on the Climate Smart Cape Town Pavilion about the vision they have for a green economy in our part of the world.
Alan Winde (Western Cape Minister of Finance, Economic Development and Tourism), Anton Bredell (Western Cape Minister of Local Government, Environmental Affairs and Development Planning) and Xanthea Limberg (Councillor for the City of Cape Town) discussed why a green economy is one that results in improved human well-being and social equity.
Watch this short video of a segment of Xanthea Limberg's presentation.
Thanks to Gareth Morgan for the image and video.