COP17 Climate Smart Cape Town daily: Day 11
COP17 negotiators continued to push their countries positions with some surprise turnarounds by Canada and the USA. According to Reuters, the USA denied accusations that it was trying to delay the start of a legally binding deal until after 2020 because of deep splits between Democrats and Republicans. European and African countries remained committed to the renewal the Kyoto Protocol. Russia confirmed that they would not be parties to a renewal of the Protocol. In a last minute statement, Canada expressed support for the position of the European Union (EU). The outcome of the legally binding contract to cut global emissions is still unclear with less than 24 hours until the end of the conference. This OneWorldTV video gives a news round-up heading into the last day of COP17.
---
The following events took place on the Climate Smart Cape Town Pavilion:
A short presentation on the City of Cape Town MyCiti public transport bus system that commenced operations in May 2010. This uses a fleet of modern, comfortable buses that move in their own dedicated lanes on trunk routes. Feeder routes run through suburbs and industrial areas with smaller buses to bring passengers to the main trunk routes. The service has links to other forms of transport – at rail stations, long-distance bus services and the airport. They include a network of convenient, well-lit cycling and walking paths to and from the bus stops and stations. For further information on routes, fares and schedules, please visit: www.capetown.gov.za/MyCiti.
A presentation on Local Government perspectives in addressing climate change by Helen Davies, Director: Environmental Sustainability, Climate Change and Biodiversity, Department of Environmental Affairs and Planning, Provincial Government Western Cape.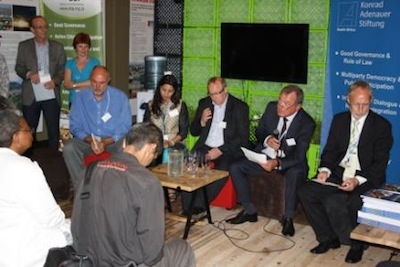 The launch of the manual titled "Sustainable Mega-Events in Developing Countries: Experiences and Insights from South Africa, India and Brazil" (pictured to the right). This document looks at how can Mega-Events, such as the 2010 FIFA World Cup™ in South Africa, the 2010 Commonwealth Games in India as well as the 2016 Olympics in Brazil, were used as catalysts for sustainable urban development. This event was in partnership with the Konrad-Adenauer-Stiftung.
---
We will host the following event on Friday 9 December, the final day of COP17 and the Climate Change Response Expo:
11h00: A panel discussion titled "Green Economy – Vision of the Western Cape" with Alan Winde (Western Cape Minister of Finance, Economic Development and Tourism), Anton Bredell (Western Cape Minister of Local Government, Environmental Affairs and Development Planning), Xanthea Limberg (City of Cape Town) and an African Centre for Cities representative (tbc). A green economy is one that results in improved human well-being and social equity. The panelists will discuss different visions for a green future for the Western Cape region.